Muwekma
MUWEKMA OHLONE TRIBAL EVENTS AND COMMUNITY EVENTS
Stop by and visit the Muwékma Ohlone Tribe Information and Cultural Exhibit Booth on Saturday, May 7, 2022 from 11 am to 7 pm. Learn about our Tribal history, culture, and language.
Stop by the "Justice for Muwékma" Booth and learn how you can support our efforts for Federal Recognition. Become a Muwékma Ally!
Join us on Saturday, May 7 at 5 pm as We Dance for the First Time at the Stanford Powwow, during the "Special Performance".
We hope to see you at the Stanford Powwow. Aho!!!
Check out Stanford University's Muwékma Ohlone Tribal Land Acknowledgment in English and our Native Chochenyo language here: https://www.stanford.edu/native-peoples-relationship/
Check out the "Justice for Muwékma" Instagram page and get updates at: https://instagram.com/justiceformuwekma?igshid=YmMyMTA2M2Y=
Date: Saturday, May 7th, 2022
Time: 5:00 PM

---
Peninsula Open Space Trust and the Muwekma Ohlone Tribe of the San Francisco Bay Area Area are honored to host Indigenous leader, author, and scientist Dr. Robin Wall Kimmerer for a talk centered around the themes of her best-selling book "Braiding Sweetgrass". A citizen of the Potawatomi Nation, Dr. Kimmerer writes about the intersections of traditional ecological knowledge and science, and how native traditions and scientific disciplines provide different languages through which we can interpret the world. Integrating the two can provide us with a roadmap for how people can come into relationship with and care for the land where they live, honoring the past and planning for a sustainable future.
The in-person event is $10-$20.
The online simulcast is FREE.
Advance registration required for both in-person and online event. Tickets can be reserved here: https://openspacetrust.org/event/braiding-sweetgrass-an-evening-with-dr-robin-wall-kimmerer/
Check it out on Facebook: https://facebook.com/events/s/braiding-sweetgrass-an-evening/708313557030417/
Charlene Nijmeh, Chairwoman of the Muwekma Ohlone Tribe will be the head of ceremonies and will also introduce the Muwekma Ohlone Preservation Foundation, our nonprofit whose goals include connecting with and caring for our ancestral lands in the Bay Area. A blessing and land acknowledgement will also be delivered by Vice Chairwoman Monica V. Arellano along with other tribal members.
In Person Event: Sunday, May 15th at the California Theatre in downtown San Jose. Tickets range from $10-20 and include reserved seating. Event begins at 7:00 pm. Doors open at 6:30 pm.
Virtual Event: Community members can participate for free in the online broadcast that will occur simultaneously, or to watch a recording that will be available through midnight, Sunday, June 4th.
POST has been supporting the Muwekma Ohlone Tribe in our effort to set up a 501(c)3 land trust, the Muwekma Ohlone Preservation Foundation www.muwekmafoundation.org. The intention in partnering and co-hosting this event with the Muwekma Ohlone Tribe is to help raise awareness and support for our effort, as well as to raise general awareness amongst POST's audience of conservation-minded people about the need to support indigenous people and organizations in the Bay Area.
We hope you will join us on the Special Evening.
---
Past Events
Join the Muwékma Ohlone Tribe at the Second Annual Santa Clara Powwow this Saturday, April 30, at 11:30 am. We will offer a Welcoming Declaration, Land Acknowledgment, Blessing, and sing our Welcome Song in our Native Chochenyo language. Aho!
Date: Saturday, April 30, 2022
Time: 11:30 am

Get more information: https://fb.me/e/4LJMMebPd
---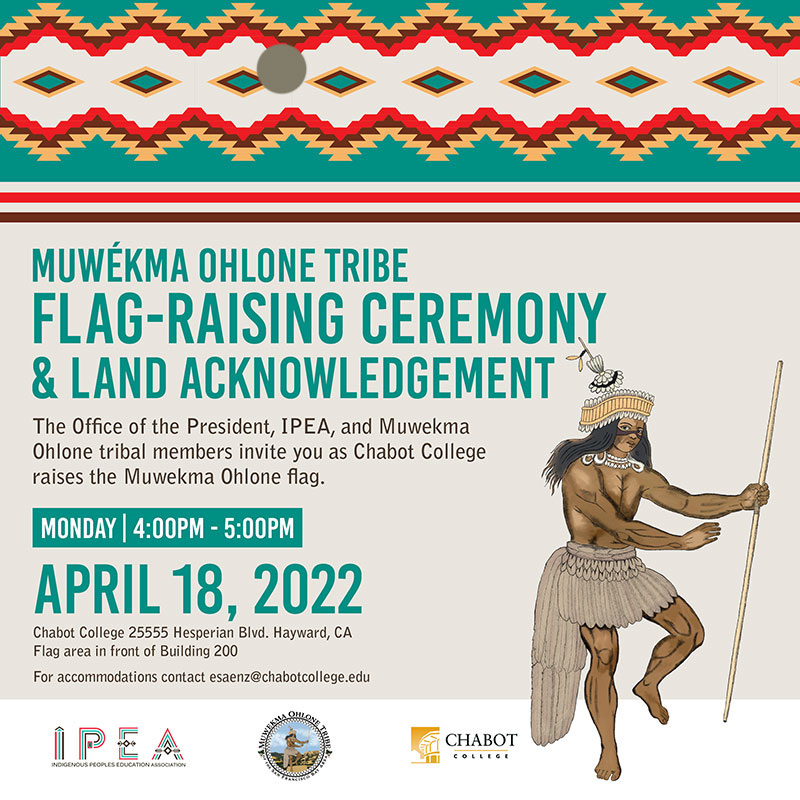 Chabot College President Susan Sperling, IPEA, and the Muwékma Ohlone Tribe invite you to Chabot College for the Muwékma Ohlone Flag Raising Ceremony.
The Muwékma Ohlone Flag will be permanently flown on the college campus to acknowledge the history of the land on which we live, work, and learn. They also recognize our Muwékma Ohlone People, who are alive and flourishing members of the Hayward and broader Bay Area communities.
Date: Monday, April 18, 2022
Time: 3:30pm light refreshments | 4:00pm start of program
Locatiom: Chabot College, 25555 Hesperian Blvd, Hayward, CA 94545 | Flag area in front of Building 200
---
Mákkin Mak Muwékma Wolwóolum, 'Akkoyt Mak-Warep, Manne Mak Hiswi!
We Are Muwekma Ohlone, Welcome To Our Ancestral Homeland!
Muwékma Wolwóolum Warep Taššu Muwekma Ohlone Tribal Land Acknowledgment for California Native Night, San Jose, CA Thámien Ancestral Muwekma Ohlone Territory
In Honor of our Muwékma Ohlone People Coming Out to Dance in over 125+ years!
Horše túuxi! We would like to recognize that while we come together for California Native Night in the City of San Jose, we are gathered on the ethno-historic tribal territory of the Thámien Ohlone speaking tribal groups of the greater Santa Clara Valley, which includes the lands of the Thámiens, Alsons, Matalans, and the Paleños… who were intermarried with the direct ancestors of some of the lineages enrolled in the Muwekma Ohlone Tribe of the San Francisco Bay Area, whom were missionized into Missions Santa Clara, San Jose, and San Francisco.
Please watch the video for the complete Muwékma Ohlone Tribal Land Acknowledgment. Aho!
---
Feeling Excited and Emotional as we lined up, ready to enter the circle to dance for the first time in over 125 years for our Muwékma Ohlone People❤